On my secondary computer I tried upgrading to 4.2.1045 tonight, but am getting an error on startup. (And this is why I always upgrade first on this secondary, less critical, PC and run it for at least a couple weeks before I update my primary computer.)
Dell Inspiron 7000 series laptop
Windows 10 Home (Version 1809, Build 17763.316, and windows update is fully up to date)
It has been running 4.0.1010.0, with no problems, since it was released.
After installing 4.2.1045 I get "Runtime error 217 at 056EF468" on startup: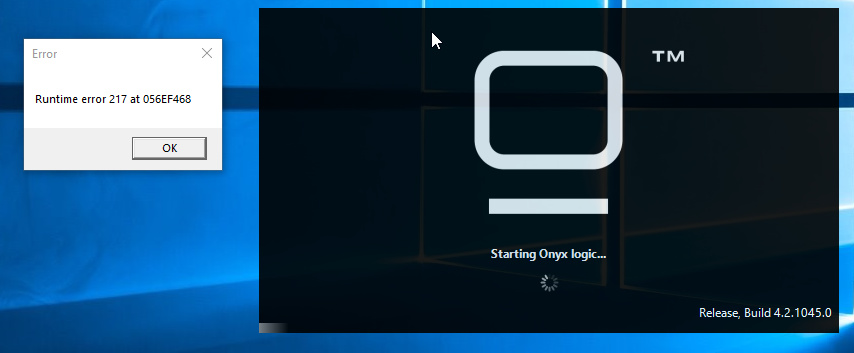 After clicking "OK" I get "Internal error" "Onyx can't load the "Prioritizer". Please contact your vendor if this error occurs again":


Tried unintalling 4.2.1045, rebooting, running cleanup tool (as Admin), rebooting, and re-installing 4.2.1045. (Several times.)
Also tried with Windows Defender and Firewall turned off.
Got those same errors every time.
After multiple attempts, and trying different things to get 4.2.1045 to work, I decided to try reverting back.
I uninstalled 4.2.1045, rebooted, ran cleanup tool (as Admin), rebooted, and re-installed 4.0.1010.0… and it startups up just fine.
(Thank goodness. At least the secondary computer can continue to run on that until I figure out this issue with 4.2.1045.)
Any help, suggestions, advice would be appreciated.