An improved version of CLU and matching NETRON Beta 2.93 are avaiable for testing.
This includes support for RDM capture on DMX Input ports, for example to transfer RDM for Robe Follow Spot Systems.
Many improvements were done to the processing speed of all NETRON nodes, especially when capturing DMX data.
The CLU tool now manages all settings natively in the application window.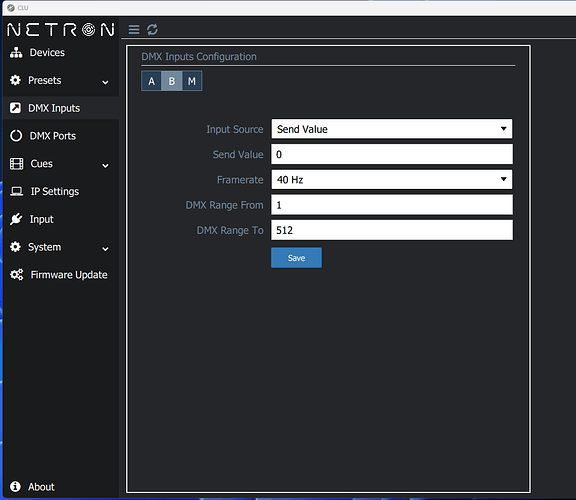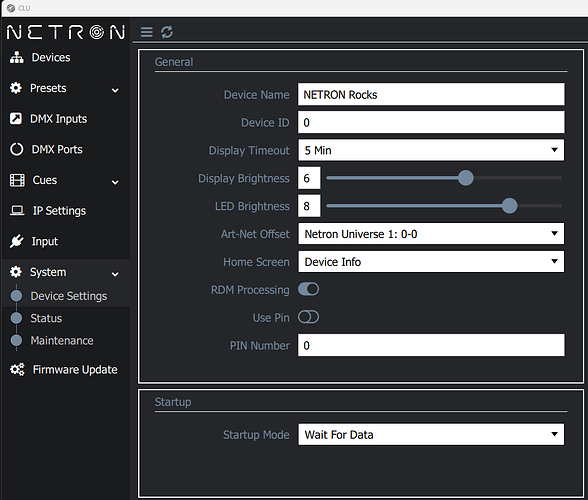 NETRON firmware can be updated to the nodes simply with the arrow in the CLU application. Version 2.92 is also included, the "RECOVERY" button allows to browse the firmware file to roll back if desired.
Please report back any concerns or positive feedback. We are looking for many testers for the Robe FollowSpot bridge.
NETRON CLU + Firmware 2.9.3 https://files.obsidiancontrol.com/s/Fg5j644Dy6JkoGE
NETRON Firmware Beta 2.9.3 https://files.obsidiancontrol.com/s/DKppMDWz3PesWct
	Release Notes for NETRON Central Utility
		(C) 2023 - Obsidian Control Systems

V1.007 (09/21/2023)
Includes Beta Firwmare 2.9.3
New features
All device settings are moved into CLU application
RDM support on DMX Inputs, for example for Robe Followspot Systems.
Create dedicated Art-Net network between two devices and assign the same Universe numbers on both sides.
Different NETRON devices can be used on In and Output. All devices must use this firmware version
Universe Browser Home Screen, allows for instant assignments of Port Universe numbers without navigating the menu structure
Improvements
Revised RDM communication to always send complete DMX frames. This increases compatibility with some manufacturers fixtures (e.g. ETC)
Improved Merge Performance on RDM10. Set Input Refresh Rate to 40Hz to activate the high speed merge algorithm
Added red blinking LED feedback to DMX ports to indicate lost Ethernet traffic
RDM package structure
Home screen always shows IP address on the bottom
Bug Fixes
Resolved Cue Playback sometimes not triggering or sending only partial cues
Resovled Cue Playback on DMX Loss settings
sACN Multi-Cast subscription was timing out on EN4
Sometimes the nodes subcribed to unnecessary sACN Universes 1 and 4 through 11
Resolved sACN priority handling with Zactrack Tracking Systems
Known Issues
Resend Ethernet on Cue playback sometimes inconsistent
Remote Input not implemented in CLU application. Use device web interface
Load / Save Settings not implemented in CLU application. Use device web interface
V1.006 (11/10/2022)
Includes Firmware
EN12 V2.9.2
EN4 V2.9.2
EP4 V2.9.2
EP2 V2.9.2
RDM10 V2.9.2
Improvements
Identify uses LED and Display level @ 100%
Node Web UI refinements (colors/text sizes)
Bug Fixes
Corrects sACN and Art-Net sometimes missing frames on 0s changes
Fixed Backup Export / Import for EN12
Improved sACN priority handling
Fixed node discovery with 169.254.x.x addresses (e.g. no DHCP Server)
Improved RDM compliance
Corrects RDM10 performance hiccups
V0.1.004 (08/13/2022)
Improved device table layout
Improved device discovery speed and UI feedback
Increased speed of device online/offline monitoring
Improved reliability and speed of firmware updates
Added "About" screen with Version Number, Release Notes, Help File
V0.1.1001 (08/01/2022)
Added status feedback LED to show nodes online/offline
Improved discovery speed
UI recalls position and size
V 0.1.1.0 (06/23/2022)
First public beta version
Supports discovery on all network ports over LLRP
Allows IP configuration, Identify
Firmware updates for one or multiple devices
Direct access to all device web pages