I just updated to Onyx v4.8.1238 and am having an issue with my programmer not clearing. It seems to affect all instances when the programmer should clear (i.e. Clear Clear, after an Update, etc). It also appears to only happen when using intensity and color presets. To reproduce, do the following:
Select some fixtures that support color
Bring up an Intensity and a Color preset
Attempt to clear the programmer
Notice that the fixtures stay stuck in the programmer
Attached is a screenshot that shows the state of the programmer window when I attempt to clear.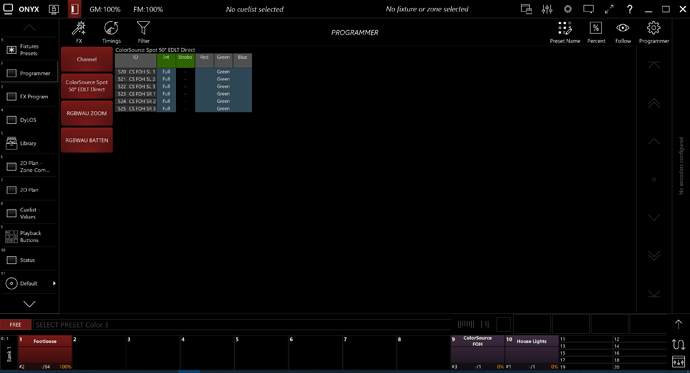 The only way that I've found to get it to clear is to type Load Load, and then attempt a Clear Clear. The fixtures will deselect, but the values will not clear out of the programmer. Not sure if it matters, but these are patched as ETC ColorSource Spot 50deg EDLT Direct, from the standard Onyx library with no modifications. It also happens on a custom RGBWAU Zoom fixture I made myself, so I don't think it's fixture-dependent. When I was on 4.8.1237 this functionality seemed to work fine, so it looks like this was introduced in the latest update.