This is intended to be the last beta. Future builds will be release candidates with bug fixes only that also will contain the announced License changes.
The main new feature are color palette generator which allows amazing colorFX using Dylos Generators or Media playback. Simply edit an empty User Color Palette and try it out!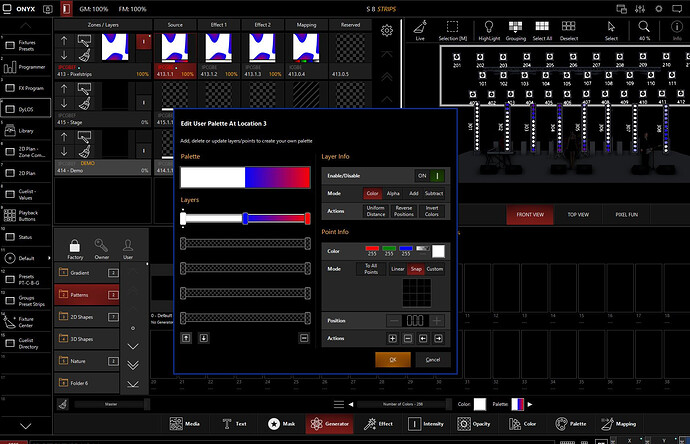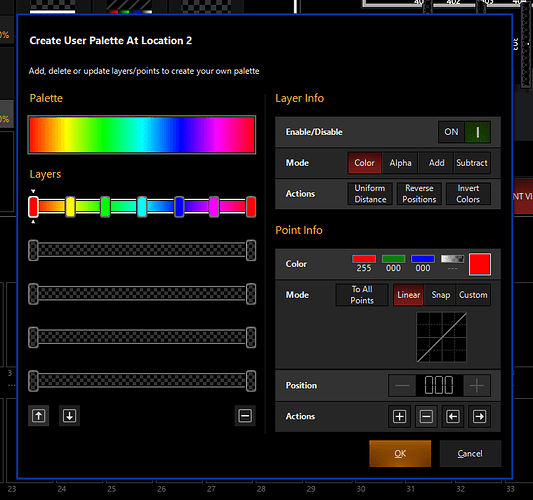 The version contains the latest AtlaBase library and some development from ONYX to correct warnings for certain fixture types (e.g. Tilt Bars)
Thanks for all the beta reports, now is the time to really check every function and report issues below. The more details the better, attach example shows and pictures if possible. If it was previously reported and not fixed, please report again specifically in this topic.
Library related items please continue to always install the latest daily version and fill in the report form if needed:
Fixture Library (4.6 Preview) (obsidiancontrol.com)
4.5.1212 (16/04/2021)
Added color palette generator/editor
Added fixture type filter to programmer and cue values panels; fixes and improvements
Added Art-Net/sACN source IP input filtering
Added DyLOS thumbnail feedback options
Library conversion improvements allow for more fixture types to be added to a show file again
Fixed UPDATE+UPDATE to referenced preset(s) not updating cue values
Fixed cleaning faulty fixture types from show files, preventing adding fixtures when type was fixed
Fixed DyLOS generator animation
Fixed DyLOS opacity mapping
DyLOS Framing and Iris will now follow opacity mapping (indicated using hatching pattern)
Various fixed and improvements